Guardian of the Genome
What is p53 and how does it serve the cell in a normal situation?
Known as the guardian of the genome, p53 (Tumor Protein 53) is a tumor suppressor protein that is activated by many forms of cell stress, such as damage to the DNA, oncogene activation, telomere erosion, ribonucleotide depletion, oxidative stress/hypoxia.1,2,3,5,6
The coordinated response of p53 protects cells from malignant transformation and tumor development.8,9
DNA Damage
Oncogene Activation
Telomere Erosion
Ribonucleotide Depletion
Oxidative Stress/Hypoxia
p53 is activated by cellular stress or genomic damage
p53 protects cells from malignant transformation
p53 responses preserve genomic stability
How does p53 work?
When activated, p53 binds to DNA and initiates gene transcription that leads to production of proteins that stop cell division until DNA can be repaired.7,9,10 If the DNA damage is beyond repair, p53 initiates controlled cell death (apoptosis).9,10,11
In a normal cell, the processes of cell division and cell cycle arrest are very tightly regulated, mediated in part by another protein called MDM2.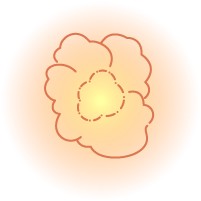 What is MDM2 and how does it affect p53?
Mouse double minute 2 homolog, or MDM2, is an enzyme that regulates p53, by keeping p53 levels and activity in check in normal, unstressed cells.12
The MDM2-p53 interaction represents a compelling therapeutic target in cancer.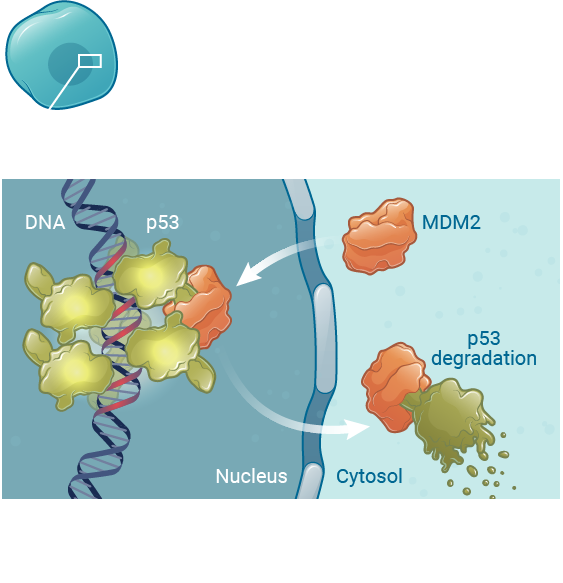 How does MDM2 regulate p53?
MDM2 directly binds to the transactivation domain of p53 which prevents p53 from initiating gene expression. MDM2 tags p53 for proteasomal degradation while also promoting its export from the nucleus to the cytoplasm.1,12,13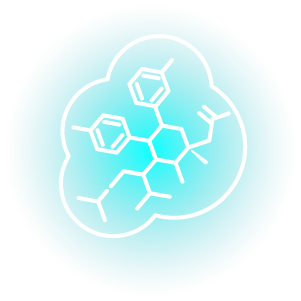 KRT-232 Mechanism of Action
KRT-232 is an investigational oral small molecule designed as a potent and selective inhibitor of the MDM2-p53 interaction.16,17 By fitting precisely into the p53-interaction domain of MDM2, KRT-232 inhibits MDM2 by preventing it from binding to p53.17
MDM2 inhibition permits p53 to be activated and exert its tumor suppressor functions.14,17,18 Activated p53 halts cell proliferation and can lead to apoptosis in malignant cells. In non-malignant cells, cell cycle arrest allows for DNA repair to occur, which helps prevent new malignancies.
Preclinical data support the further investigation of KRT-232 for its potential therapeutic utility for treating certain types of cancers where MDM2 is overly active.15,16,17,18,19